That is a Christmas song, right?
Today is the day.
To start decorating for
Christmas
!
I've cleaned the living, jammed to Taylor Swift, and made room for the tree.
Now, I'm debating on using my pre-lit, fake tree or getting my FIRST
real
tree!
Pros to the

Fake
:
I already own it.
It's pre-lit.
Less mess.
Perfect height for our space.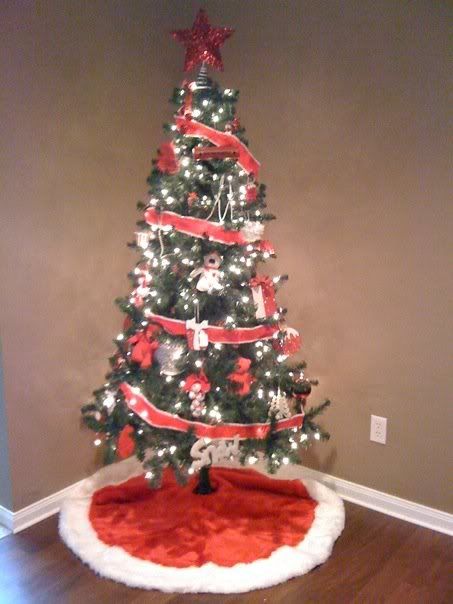 Last year's tree. Hmm...maybe a bigger tree would be okay?
Cons to the

Fake
:
No Christmas smell.
Not as festive.
Pros to the

Real
:
It's festive.
It smells oh-so good!
It would make Mark Dean happy.
Mark Dean & I will get to go to a tree farm and pick one out together.
(I've always wanted to do that!)
I could def. see us cheesing it up here. :D
Cons to the

Real
:
I can't get it till this weekend.
I have to buy lights.
And put them on.
MESSY! (God knows I'm mess enough already!)
I'd have to keep it alive. HAHA!
So, my plan of action is:
Get a real one, try to keep it alive as long as possible.
If it dies, I can put my fake one up.
At least Mark Dean will be happy. And that's enough to light up my heart this holiday season. :)