So, I got out of the house today with my good friend, Connie. We took a lil trip to town in search of some twine for me and a birthday craft she was going to work up for her SIL.
While I searched Michael's high and low for twine, we passed the yarn isle and I told her how I wanted to learn to knit but doubted I'd ever actually get around to doing it, while moving on to another isle in search of twine.
We make it to the check out line with supplies for Connie's project...no twine for me...and the girl in front of us asks if we think her yarn colors look good. And this is what got our adventure going. After this simple question, the rest of the conversation, and afternoon, goes a lil something like this.
Me
: Did you knit the scarf you have on?
Our New Friend Carrie Knitter
: Yeah.
Me or Connie
: I love it! I was just telling Connie about how I wanted to learn to knit. How difficult is it?
Carrie Knitter
: It's so easy. It seriously takes 5 minutes to learn. All you need is 2 scenes of yarn and # knitting needles.
Me
: Oh. Well that's neat. I guess I may actually take time to learn it one day.
(This is where Carrie Knitter drops all her stuff to SHOW us how it's done. How awesome is that?!?)
After figuring out I couldn't really follow what she was doing, this happens.
Carrie Knitter
: Go grab the stuff you need! You can get it now and I can teach you.
So, I go get my supplies. I leave with a scooter stamp, a perfect pear stamp, 2 scenes of yarn, and #13 knitting needles. Still no twine.
Then, we go to Starbucks and get a basic knitting lesson.
I battled with learning this for the most part but instantly, it clicked. And I'm trucking right along.
Here is what I've gotten done today: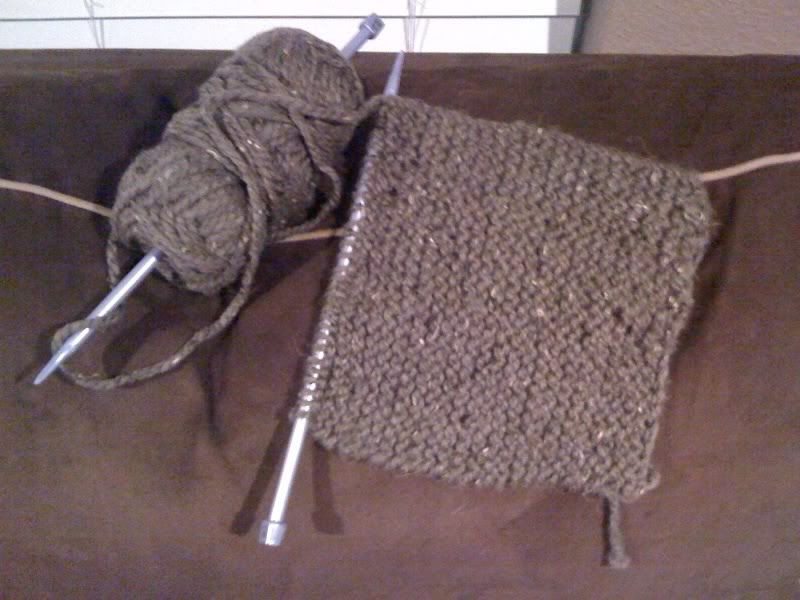 Thank you Carrie Knitter! We love you and we love knitting!